---
Some N9 Users experience issues after updating Nokia Link – Update with Caution
Posted: 12 Jun 2013 06:54 PM PDT
We recently shared with you guys that Nokia Link was updated on the N9 and it brought with it some 3G connectivity improvements. In what some are calling "Sabotage", the update has seen some users suffer for the exact thing the update is supposed to fix – connectivity.
So here is the situation. Someone at Nokia who cares/was paid to, has updated the N9 through Nokia Link. Now, Nokia Link is simply an app that will open an installer for the desktop software on your PC when you connecte your N9. In a rather clever move (although I would have done it with a package that is more likely to be installed on all devices – seeing as heaps remove Nokia Link), the update doesn't actually update Nokia Link at all. It simply attaches a 5kb file (confpp_1.0.0+0m8_armel.deb) that is then installed alongside the version of Nokia Link you had before. NOTE: Nokia Link itself has not been updated.
This confpp package is what brings with it the 3G fix that has been reported in the bugzilla a while back.
The conclusion is that if you have issues with your 3G connection – install the update. If you don't stay clear of it, as it seems to introduce the bug into your device.
So if you're one of the unlucky ones affected – simply purge your device of confpp and you should be fine
TechCrunch blogger disses Nokia's PureView because it isn't Fat and Ugly like the Samsung Galaxy S4 ZOOM Brick
Posted: 12 Jun 2013 12:50 PM PDT
The gist I got from this article was because the S4 Zoom looks more like a camera than the Nokia PureView devices it's instantly better.
Apparently, whilst Nokia PureView might perform better in low light, it doesn't matter because the consumer will prefer thee thing that looks more like a camera.
Well, actually, I could see Android and a large(R) screen being reason amongst several others. You know, genuine reasons.
It seems that to Natasha, if you're going to go and make a big camera based phone, make it super fat, and super ugly, like an ugly fat point and shoot so regular joe that knows nothing about cameras and camera phone will pick up your fat and ugly camera-phone hybrid.
Samsung's relentless pursuit to cover all bases the competition is at is admirable. If you can, why not. Also, the push on camera makes camera as a feature even more important. It's still one of Nokia's strengths so all the better for Nokia that more people are in pursuit of good photography. I feel Samsung gave PureView a breather when it released the previous iteration of the Fat and Ugly S3/Camera just without the phone bit. Adapt/Copy/Evolve quickly and swarm the competition, like the Borg or virus, an impressive feat for those who can carry it off.
Quite rightly, Natasha says it may be down to performance but apparently, on design, the outside of the fat and ugly S4 zoom wins. Note, i think I've seen performance comparison in areas where the 808 beasts the previous SammyDroidCamera.
Nokia's been working for 5 years on PureView Phase 1 as seen in the 808. It was meant to bring DSLR like performance in a POCKETABLE size (pocketable at least when they started it – though still much more compact than the fat and ugly S4 Zoom).
Come on Nokia, release the Kraken already! (As for looking more like a camera, I read some complaints in the Nokia EOS leaks that they didn't like how it looked too much like a camera :p)
Cheers Jenjaman for the tip!
Apologies for the title. It was in the same jest as the one I'm responding to.
Lumiappdates: Shazam and Day Counter get some bug fixes
Posted: 12 Jun 2013 12:29 PM PDT
t only mentioned it early this morning that the devs of Day Counter were already working on an update after we had mentioned some small issues and they've already pushed one out. Kudos guys.
Shazam has also been updated with bug fixes (and this is relatively recent for a major app too).
Nokia EOS interchangeable Canon Lens teaser? :P @herr_lampe
Posted: 12 Jun 2013 03:31 AM PDT
I'm on my way to my exam. But quick heads up on this. Might not be much other than a bit of fun or is it a hint. It's a Nokia Lumia 920 and a canon EOS lens…well a representation of one(it's a mug, no).
The source of the image and the tipper makes me think Nokia's proud of the next gen camera phone though, Ben Lampe, PR Nokia Germany.
Update: As Jay is off to his exam, he was in a rush and didn't grasp the intent of Ben's tweet. Earlier today Samsung announced the S4 Zoom – part phone, part camera. Boy is that thing ugly!
In an attempt to mock Samsung, Ben tweeted the above photo. To add to the joke, I tweeted a pic of the S4 review unit I got earlier today, with my Canon 18-55mm lens.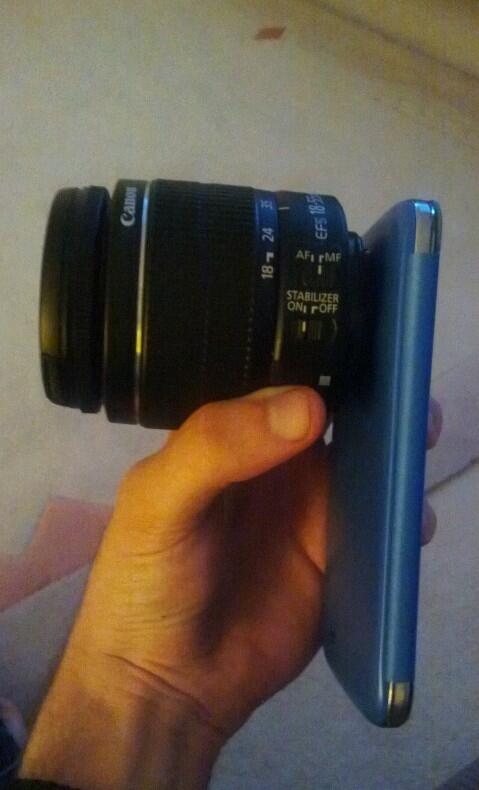 Cheers John for the tip
You are subscribed to email updates from My Nokia Blog
To stop receiving these emails, you may unsubscribe now.
Email delivery powered by Google
Google Inc., 20 West Kinzie, Chicago IL USA 60610